Lake Como Private Tour Packages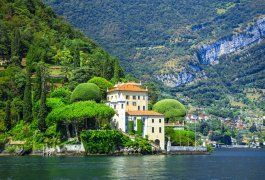 Lake Como Private Tours – The Best of The Italian Lake District
Italy has many lakes. However, the most famous ones are situated in the Italian Lake District which is an area on the north of the country, onto which Lake Como is spreading with its 'two legs'. Private tours to Lake Como are ideal for couples and families and are the most perfect destination holiday in Italy.
Lake Como is accessible from any airport near Milan and is one of the watery landmarks of Italy. Known for the private luxury tours and the numerous villas owned by many celebrities, it is no wonder why Como is popular across the globe.
Private Tours of Como
Como is ideal for a day or two stay and a private tour including all the historic attractions. Speaking of which, the best historic attractions in Como are:
Como's Cathedral – dating back to the fourteenth century
Broletto – Como's town hall and later a theatre
Tempio Voltiano – a classical temple related to the work of the famous physicist Alessandro Volta
The sense of luxury present near the Lake Como is actually the attitude of this place. Intriguing and romantic, while relaxing and pleasant. Como has a history of silk-making and Fashion Design.
Bellagio Private Boat Tour
One of the best way to enjoy the many splendors of Bellagio and surrounding area is from the water. During a six-hour private motorboat cruise you will explore the shoreline so you can visit the charming villages and admire elegant private villas from up close: Villa Versace, Villa Le Rose, Villa Passalacqua and Villa Oleandra (owned by actor George Clooney).
Private Tours to Bellano and Menaggio
Bellano is a pretty village near Como (its eastern leg) which is situated on the lakefront and lets you wander its streets. The private luxury tours to Bellano include examples of medieval and Baroque architecture which you can see for yourself, along with many excellent luxury restaurants – resulting in a great food tasting experience in Lake Como. Along with Bellano, the private luxury tours in Como can be enriched with a visit of Mennagio, a small place situated on the other side of Lake Como. Tours to Menaggio are accessed with either a ferry tour across Lake Como or a drive around the lake. The tourist resort of Menaggio includes a variety of hotels and luxury restaurants and a beach. The private beach tours and sports activities in Menaggio are plentiful and spread along the lakeside.
Private Tours of Lugano
Italy Luxury Tours provides Day Private Tours of Lugano from Bellagio or Como. In Lugano there are several option for Private Tours.
Explore the beauty of Lake Como with our customizable Lake Como tours. Our expert guides will take you on a journey through the stunning landscapes of the region, where you can admire the picturesque towns, luxurious villas, and crystal-clear waters of the lake. With our Lake Como tours, you can create your own itinerary and discover the hidden gems of the area, from the charming fishing villages to the majestic mountain ranges. Contact us at +1 (855) 539 0045 to book your Lake Como tours with Italy Luxury Tours and enjoy a unique and unforgettable experience in one of Italy's most beautiful destinations.